Why is my Switch not turning on?
Power and charging issues are often caused by one or more of the following:
| | |
| --- | --- |
| | The battery is no longer able to hold a charge |
| | The USB-C charging port might be damaged |
| | A non-genuine, non-Nintendo branded charger or dock caused damage to the internal power/charging circuit. |
| | Other power/charging circuit damage on the main circuit board |
The good news is that most power and charging issues CAN be repaired, and for a fraction of the cost of buying a brand new Switch. Repair is also environmentally friendly because it keeps e-waste out of our landfills, which is a goal that is a core tenant to my business.
How does the repair process work?
When you click the 'Start A Repair' button above, you will be guided through the process of setting up your repair with me. Shipping instructions for sending your broken Switch to me will be emailed to you at the end of the setup process. Once I receive your device, I will begin the repair and will keep you updated throughout the process. Payment is collected only if I am able to successfully restore your Switch back to working condition.
How do I pay for my repair?
Payment is collected after I successfully repair your Switch. I happily accept credit card, PayPal, and BTC.
If I'm not able to repair your Switch, I will ship it back to you and you owe nothing.
How do I ship my broken Switch to you?
Shipping instructions are provided after clicking the 'Start A Repair' button above and completing the setup process. The cost to ship a Switch to me is typically around $7-$12 when using a Flat Rate box from USPS.
What is 'No Fix, No Fee'?
My No Fix, No Fee repair model ensures that you only pay if I can successfully repair your Switch. There is a high probability that I will be able to repair your Switch, but sometimes I run into problems that I'm unable to resolve. If I'm unable to fix your Switch, I will simply send it back to you, no charge.

90 Day Warranty + Comprehensive Device Health Checklist
To me, a successful repair means fully restoring a device back to it's original intended functionality. While your Switch is here, I will perform a comprehensive checklist on your device to ensure that it is fully functional before I send it back to you; testing items such as: docking ability, wifi connectivity, touchscreen responsiveness, etc and correcting any issues that I uncover.
I offer a 90 day warranty on all parts and repair services. If you are unhappy with your repair, send it back to me and I'll make it right!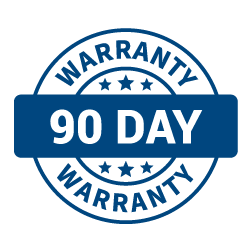 Choose this service if:
Your Nintendo Switch does not turn on when you press the power button and/or plug it into a charger.
Your Nintendo Switch has a damaged charging port and no longer charges or powers on.
Your Nintendo Switch powers on but does not recognize that a charger is plugged in.